New Homes
WHALING HOME CONSTRUCTION LTD. has been constructing new residential homes and residential subdivisions in the Hanover Area for over 58 Years. We are a member of the Canadian, Ontario and Local Home Builders Associations and provide Tarion New Home Warranty for all of our new homes.
We Pride Ourselves in providing exceptional quality, workmanship and making your building experience truly an enjoyable endeavour and we are proud to be Hanover's Oldest Longstanding Builder for over 58 Years.
We offer Custom Home Building, Model Homes Already Built and Ready for Resale as well as a supply of Residential Building Lots. WHALING HOME CONSTRUCTION LTD. will assist you to find the right plan, have it designed and construction plans ready for building.
Whaling Home Construction has been nominated as one of the Top Builders in the province of over 5000 registered builders for the last 2 years by the Tarion Warranty Corporation for Quality, Customer Service & Community Involvement.
BREN-LEA ESTATES – YOUR CONNECTION WITH NATURE & TRANQUILITY.
Our New area is Bren-Lea Estates and is Located in the Northeast corner of Hanover, consisting of 29 Single Family Estate Lots and 18 Semi-Detached Bungalow Lots. Bren-Lea Estates will satisfy all of your needs to construct your dream home with a prime location nestled among pine trees & seclusion you didn't think would be possible to find in a residential community. We will be constructing Retirement Bungalows and Model Homes starting April 1st, 2018 with possessions in mid July and beyond. The homes in both locations will offer finished basements, heated basement floors, beautiful kitchens with professional designs, energy efficient features throughout, landscaping irrigation packages, fenced in yards and many more outstanding features. These Home Will Be Constructed With Top Quality Materials and Workmanship that Whaling Home Construction Ltd. Is Noted For and Has Displayed For Over The Past 55 Years.
January 2021 Update: Whaling Home Construction has acquired the balance of vacant lots in the Bren Lea subdivision. We are excited to continue building top quality homes in this great subdivision and can't wait to help you build your dream home! There are currently 11 single family lots and 6 semi-detached lots available to build your dream home on. For more info give us a call at 519-364-1034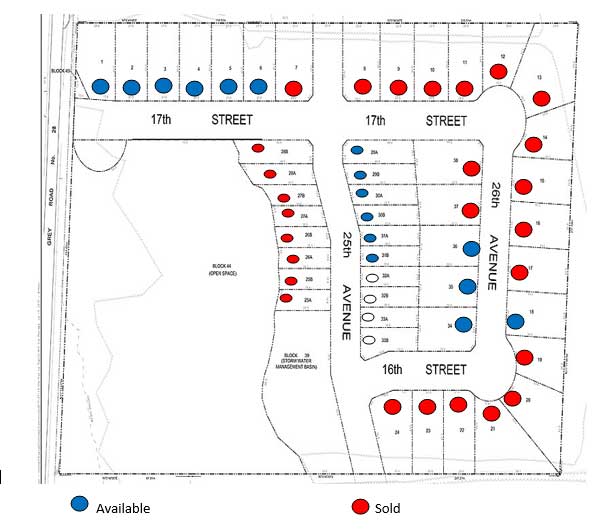 See Bren Lea Estates Website
COUNTRY MEADOW ESTATES SUBDIVISION – FAR ABOVE YOUR EXPECTATIONS.
OUR SECOND AREA is Located in the Southwest Corner of Hanover (Country Meadow Estates) which we are in the last phase – Don't Miss Out On These Large Estate Lots with frontages up to 83' and depths to 120'. Two of Grey-Bruce Counties most prestigious areas and all homes will be completely finished and ready to move into. Come in early to reserve your lot for your custom build home and let our staff assist you in every step of the building process. These 2 Subdivision areas are a rare find and when they are gone, there gone!

Whaling Home Construction currently has 5 lots left in our Country Meadow Estates Subdivision. To build your dream home in this fantastic subdivision give us a call today before your lot is gone!

Please feel free to call our office for full details of the features being offer in these 2 GREAT LOCATIONS with the level of finishing & personal service our company offers. The Building Time of the year is upon us so don't hesitate & come and get that home you have been waiting for and get your 2018 possession date....
For all your building needs contact Whaling Home Construction Ltd. at our Real Estate Office and ask for Bryan Whaling.